Accredited European Certification For Safes
Importance of accreditation
Accredited European Certification For Safes – How To Inspect What You Expect
October 2020
Security technology has always been part of a sensitive area and serves to protect tangible and virtual assets and persons. Through global trade and technical evolvement more and more security technologies produced by different manufacturers are being sold. Users of these technologies clearly need a reference point to provide assurance that a security product functions and provides the protection that is expected whether part of a system or a standalone device.
With this is mind, the proper assessment of the attack resistance of safes is a complex task. This requires the deep knowledge of attack methods and the highly trained personnel that accredited testing bodies provide, in order to test these products to their full extent. Evaluations of test results are a separate matter, and this evaluation is made by independent European accredited certification bodies who issue certificates based on a strict and verifiably unbiased assessment of these test results. However, not all certificates issued for safes are issued by independent and accredited certification bodies and there are important differences between certificates issued by accredited certification bodies and those issued by unaccredited bodies or a manufacturer.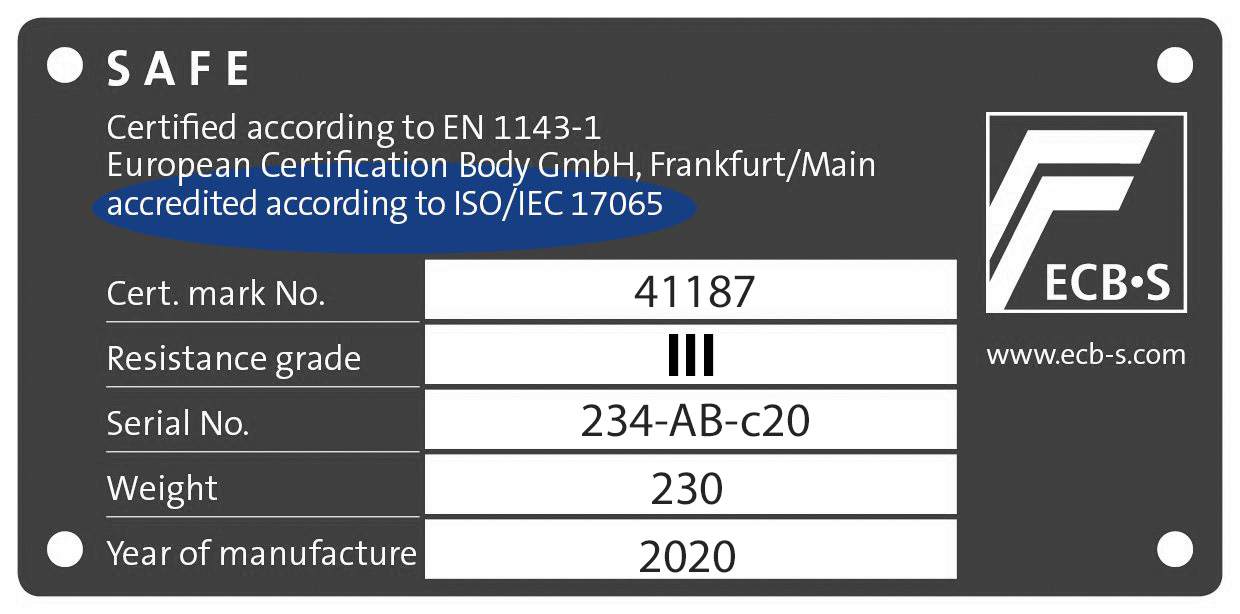 Certification mark with reference to accreditation (figure only as an example)
For most security testing requirements "self-declarations" by manufacturers for safes are obviously insufficient. For this reason, security standards which in the past had integrated a manufacturer self-declaration like the VDMA 24992 were withdrawn long ago. The reason for this is simple. A manufacturer will likely be biased towards their own products. Third party assessment by a certification body will of course provide more assurance than "self-declaration" but it is also important to be assured that the certification body itself is independent and has the required competence and facilities to assess the security of a safe in the first place.
As the trust placed in certificates, inspections or tests obviously stands or falls with the competence of the body issuing the certificate, the European Parliament addressed this problem in 2008 when it approved regulation 765/2008, which reads as follows:
(1) It is necessary to ensure that products benefiting from the free movement of goods within the Community fulfil requirements providing a high level of protection of public interests such as health and safety in general, health and safety at the workplace, protection of consumers, protection of the environment and security, while ensuring that the free movement of products is not restricted to any extent greater than that which is allowed under Community harmonisation legislation or any other relevant Community rules. Provision should, therefore, be made for rules on accreditation, market surveillance, controls of products from third countries and the CE marking.
It is this regulation that led to the establishment of the system of accreditation bodies in Europe with the responsibility to examine the competence and impartiality of certifiers through in-depth yearly audits. This strict system provides a firm basis for users and insurers of certified safes to have total confidence in the European safe testing and certification regime. Only a certification body that is found to meet the strict requirements of the international certification standard ISO/IEC 17065 is accredited to certify safes, and then only for specific listed products.

Without accreditation to ISO/IEC 17065 it is simply impossible to know if a body issuing a certificate for a safe is impartial or even competent. Accredited certification protects the consumer and the insurer of safes from sub-standard units and other nasty surprises such as hazardous materials. As important, is the fact that in a legal sense an accredited certificate has standing as proof of standard for litigation purposes. A case in point is the fact that Governments from several countries are now requiring that safes for the storage of weapons must be shown to have such accredited European certification.
Where it [the certification body] is found to be competent, the national accreditation body shall issue an accreditation certificate to that effect. EU regulation 765/2008, Article 5(1)
Always ask for documented proof of accredited certification before buying a safe for home or business use.
Falko Adomat is deputy director of the European Security Systems Association and secretary of CEN/TC 263 WG1.
CEN/TC 263 WG1 is the working group responsible for writing European standards for Secure Storage Of Cash, Valuables And Data Media for the European Union.
Link to article on ESSA - https://lnkd.in/gFkwmXf